Lion warehouse racking system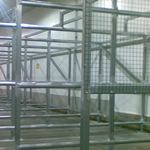 Requiring a pallet racking system of robust design, Lion turned to Metalco to fabricate and install a strong and sturdy solution to storing milk crates.
Consulting on the design of the system, Metalco was able to add additional features that improved the strength and functionality of the design (eg tapered plates to guide the crates on the infeed to the rack), and working to a short timeframe, were able to fabricate the frame in two of their manufacturing locations (to reduce time) then installed on site by the required deadline.
The new racking allows the warehouse to operate more efficiently and has doubled the amount of storage.   The client was pleased with the result, citing great workmanship, excellent customer service and fair pricing as the hallmarks of a Metalco job.
Metalco prides itself on its flexibility to meet client requirements and has completed both small and large jobs for this client.