Mars Australia – ongoing works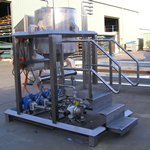 Metalco have completed several projects over many years for Mars Australia in Bathurst and have an ongoing relationship with this large organisation through their innovative approach to providing solutions on the production line and factory floor.
Encouraged to be proactive in finding opportunities, Metalco have the experience and range of practical skills to seek out and provide process improvement options while the factory is in operation or working within short timeframes in downtime or maintenance periods.
No matter what the request, the timeline or brief, Metalco always responds quickly,  meets deadlines, seeks out information required that may not have been included in the job specification and communicates effectively in both face to face and written mediums with the Mars team.
Important to both Mars and Metalco, work is always designed and completed with safety as a focus.
This approach to work , the relationship built with Mars and competitive pricing has seen Metalco awarded many competitive tenders with Mars Australia's Bathurst plant.