MacSmith Milling – Plant upgrade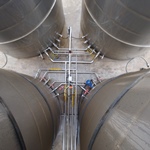 When MSM Milling, one of Australia's largest fully integrated oilseed crushing, refining and packaging operations decided to build a new plant in Manildra, they talked to Metalco to fabricate and install the process piping in the plant.
The successful completion of this work saw Metalco engaged to install machinery, access ways and complete safety work throughout the plant.
At the initial meeting MSM and Metalco discussed the drawings, with Metalco making constructive suggestions for modifications to improve the processes and reduce costs.    Metalco produced some of the pipework in their workshop and some on-site, reducing installation time and delivering a more cost effective solution to building all the pipework on-site.
The final result was a project that performed the task briefed by the client , built within the timeframe and budget.  Since the completion of this project, MSM have chosen Metalco for various plant upgrades such as the tank farm and packaging plant.
'Working with Metalco is a win-win relationship', says Peter MacSmith . 'They are terrific communicators and have good negotiation skills, working with us to come to a solution that is best for both parties.  Metalco is a great regional company with a client focused team and that's why we keep using them'